Company Profile
Established in 2009, Nanjing Kaihong Healthcare Co., Limited, has been dedicated to providing medical products of high quality. The company has participated in over 120 government procurement projects, including the construction of new hospitals, reproductive centers, dialysis centers, and so on. And also supply medical products to more than 160 private hospitals.
"Consolidating global medical resources, matching target market needs, and solving procurement problems for customers has been our mission. Over the past 12 years, we have served numerous customers, helping them acquire the right medical supplies efficiently, which earned us an impeccable reputation."
Now, the company has established operation, sales, procurement, technical and after-sales teams, and they collaborate to ensure we meet customers' demands efficiently. The company supplies nearly 400 products, covering all common medical equipment and consumables used in ICU, operating room, exam room, and inpatient ward.
In the future, the company will build a more comprehensive and efficient medical supply procurement platform that is "customer-centric and bridged by products".
Development History
2010 - Nanjing Kaihong registered and began to export medical products
2013 - We partnered with the Kenyan Ministry of Health, which was the first time participated in a government project.
2014 - We attended multinational medical exhibitions and entered into the African market; in the same year, created our own brand "CNMEDITECH"
2016 - We focused on African projects and successfully established the Hemodialysis Center in Mali.
2018 - We were in close contact with the Malawian Ministry of Health for further cooperation
2020~2025 - The African market will be fully distributed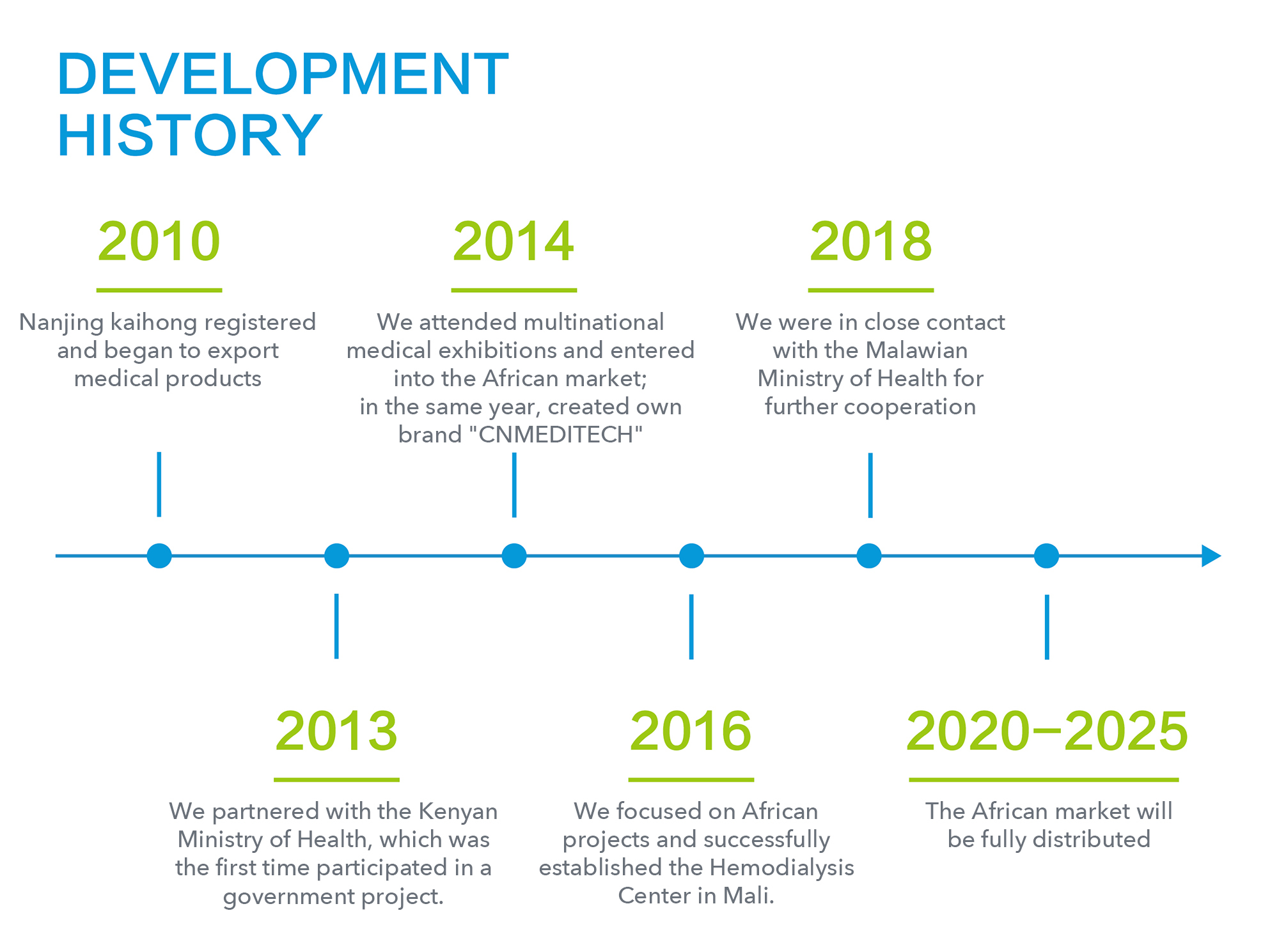 Company Culture
1. For work, pay no less than anyone else's
2. Be humble and not proud
3. Introspect every day, check your thoughts and actions every day
4. Have a "thankful heart"
5. Accumulate good deeds and think about helping others
6. Face difficulties and setbacks, don't worry, don't be anxious, don't always get angry.
Message
In the Nanjing Kaihong, all staff of provides one-stop service for both new and old customers sincerely, amicably and hospitably. The company faithfully looks forward to the cooperation.
By making development and innovation together, we could create a better future for the industry of medical health!