Model: CNME010517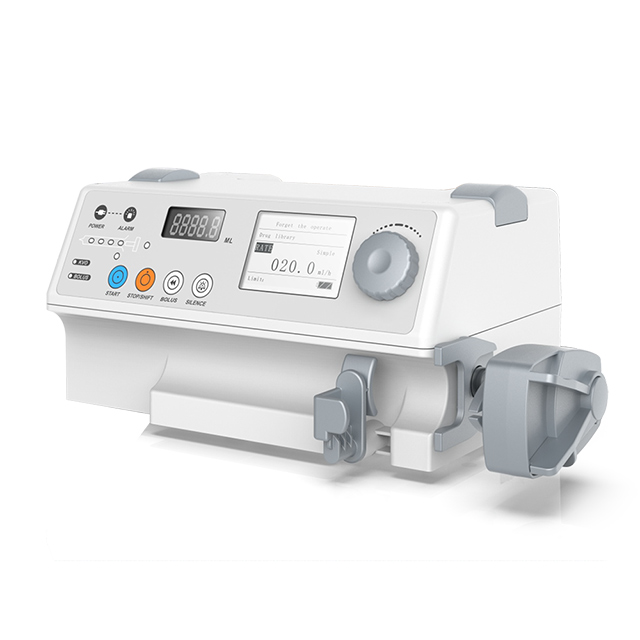 Feature:
Auto-lock Screen: Automatic Lock Screen is able to prevent operation errors.
Dual CPU: Guarantee for safer work.
History Record Cassette: Up to 2000pcs records, including operation, alarm and modification; Trackable treatments are ensured.
Pressure Monitoring: 3 pressure levels are editable to ensure great injection accuracy.
System Self-test: Safe guardian for every single use; System self-test is conducted every time turning on, including alarm indicator, volume, pressure, air bubbles, etc.
Technical data:
Applicable Syringe Size

10ml, 20ml, 30ml, 50/60ml

Rate

10ml: 0.1~300ml 20ml: 0.1~600ml

30ml: 0.1~900ml 50/60ml: 0.1~1500ml

Bolus Rate & Volume

10ml: 0.1~240ml/h 0.1~5ml

20ml: 0.1~480ml/h 0.1~10ml

30ml: 0.1~720ml/h 0.1~10ml

50/60ml: 0.1~1200ml/h 0.1~10ml

KVO Rate

0.1~5.0ml/h

VTBI (Volume to be Injected)

0.1~9999.9ml

Cumulative Volume

0.1~9999.9ml

Injection Accuracy

Within ±3%(after calibration)

Anti-Bolus

Automatically release tubing pressure when there is occlusion

Alarms Information

Injection finished, soon finish, injection is blocked, syringe falls off, syringe installation error, forgotten operation, low battery, battery runs out, abnormal running state, equipment failures, system power down etc.

Power Source

Three options for power supply:

First: 100~240VAC, 50/60HZ;

Second: Inserted Li-battery 11.1V, capacity≥1800mAh, 4 hours backup time at the rate of 5ml/h for a fully charged battery;

Third: External DC 12V power supply

Connector

DC12V

RS232

Drug Library

Up to 1000 drugs are provided

Dimensions

280mm(L)*200mm(W)*112mm(H)
Detailed Description: